Follow this Blog
---
---
Archives:Aug 2013
Oct 2012
Jan 2012
Dec 2011
July 2011
May 2011
Feb 2011
Nov 2010
Oct 2010
Sep 2010

Oil and Water Don't Mix
by Al Skaar on 8/6/2013 4:40:42 PM
Comment on this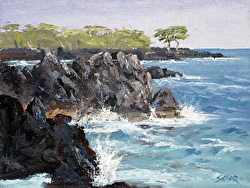 I set up my easel on the cliffs below the Lekeleke Burial Grounds, south of Keauhou Bay, to do a painting of the black lava shoreline. There are narrow slots in the cliffs, probably from collapsed lava tubes, and the waves that funnel into them get concentrated and occasionally burst out with spectacular spray, similar to the blow-holes that are found along the coast. As I painted, the slot next to me would periodically erupt with a boom followed by a brief silence, then the hiss of spray as it rained down on the rocks about 20 or 30 feet to my left.

After an hour or so I got accustomed to the sound and feel of the light mist from the spray. At one point I noticed a couple of waves rolling in, much bigger than the ones I'd seen coming in for the past hour. I grabbed my easel to make a run for it just as the first wave entered the slot, and before I could take two steps I heard, and felt through the ground, the huge WHUMP as the wave hit the cliff. Spray, along with part of the wave, launched 30 feet or more above the top of the cliff. What came down was not mist but a slap of salt water that drenched me, filled my easel, paint box, and my pack with part of the Pacific.

I shook the water off my camera and dried it with some paper towels from a pocket in my pack. Then I poured the water out of my paint box, easel, and pack. Fortunately oil paint and water don't mix so I continued to paint, pushing beads of water out of the way with my brush as I worked.

Here is a shot of my setup with one of the normal size geysers in the background, along with a shot of the scene I was painting.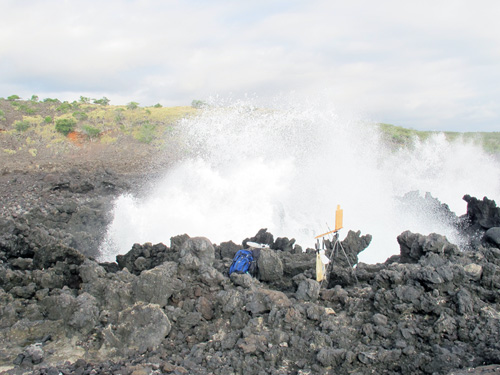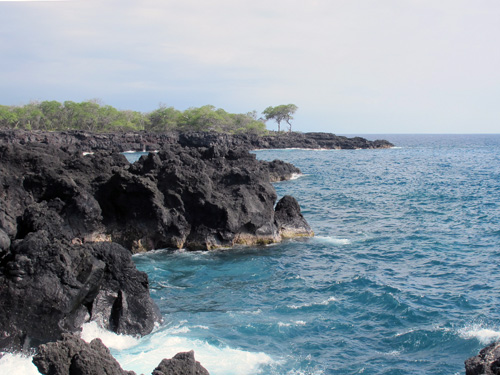 Comment on or Share this Article >>
---
Crying Lady Rock
by on 10/4/2012 1:23:55 PM
Comment on this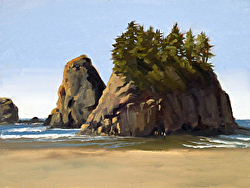 My son, Erik, and I camped for 3 nights and 4 days on Sec­ond Beach, near La Push, on the Wash­ing­ton coast. A marine inver­sion kept the beach shrouded in cloud and mist for the first two days. The sun rose in a clear sky on the third day and I set up my gear among the drift logs and did a study of a couple of the sea stacks along the beach. The tide was coming in so I had to work fast. I was able to spend just over an hour and a half on this study.
Comment on or Share this Article >>
---
A beautiful day in the neighborhood
by on 12/26/2011 4:43:15 PM
3 Comments


Our grandson, Wyatt, woke us early on the morning of Christmas Eve. He and I put on our coats and hats and took Mick, the dog, outside. It was a wintry 26 degrees at 7 am and the morning was still working on getting light. Frost covered the phone lines and tree branches. There was just enough snow on the ground to turn everything white. Mick leaped off the porch and began highlighting key features of Wyatt's front yard with yellow.

We followed Mick into the snow and stood for a moment, admiring the cold Spokane morning.

I had heard reports of car prowls in the neighborhood so I decided to check on our car to make sure everything was alright. I went through the gate in the low picket fence and told Wyatt to wait for me, and to keep an eye on Mick. Wyatt stood by the gate under the trellis to wait for me while Mick followed me along the inside of the fence to the corner of the yard. He put his paws on the top rail and watched me anxiously over the fence as I started around the rear of the car. He was very worried that I might drive off and leave him... again.

I heard snow crunching some distance behind me and turned to see a neighbor lady crossing the street at the intersection about 50 feet away. She was bundled up in sweaters, coats, scarves and at least one hat and had on a large pair of sunglasses. I said "Good morning", and she smiled and wished me the same.

"Mick! What are you doing over there?" I heard Wyatt shout.

I turned to look at Mick where he continued to bounce up and down on his hind legs as he watched me over the fence. I looked back at the lady, who had slowed her pace and was giving me a peculiar look. I continued my inspection around the car.

"Mick! Mick! Come back here," Wyatt yelled.

The woman stepped up on the curb and continued hesitantly down the sidewalk, still eyeing me suspiciously. It occurred to me that she probably thought I was some kind of pervert sneaking around the car in preparation for snatching a four year-old out of his front yard.

"Mick! Get over here right now!" demanded Wyatt.

I thought I should straighten out the misunderstanding right away before things got out of hand so I hurried around the front of the car,

The woman was no longer walking. She had stopped on the sidewalk where she had a direct line of sight to Wyatt, who was still standing behind the trellis. She was staring and pointing in our direction.

"There's a kid in the yard!" she shouted.

"Uh oh," I thought.

"Thank God, she said. I thought that dog was talking to you."


Hope you are all having a Happy Holiday!


Comment on or Share this Article >>
---
Ota's Shack
by on 7/19/2011 1:26:12 AM
Comment on this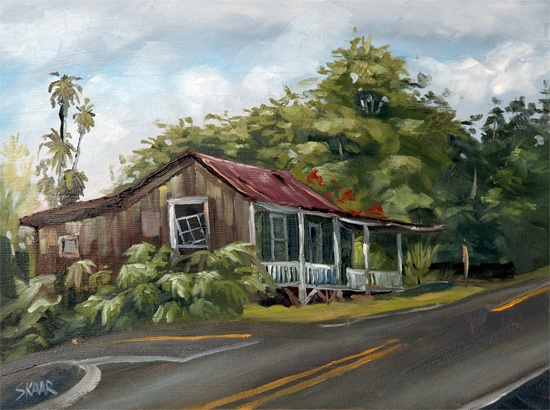 I did some painting at the side of a road up the mountainside in Holualoa. This old shack belongs to the Ota family. I love these old buildings and odd places you find on the back roads of Hawaii. It's satisfying to paint or photograph them because they all have interesting stories. They are gradually disappearing and it feels good to record at least a part of the story. The painting is not one of my better efforts, but it was fun - and educational too. A couple people stopped to see what I was doing, and they filled me in on some of the local history and told me about places that I should go check out. One of the places recommended is the men's room of the old Kona Hotel. Apparently it has a spectacular view of Keauhou Bay, among other attractions they wouldn't describe. They told me it was just something I had to see for myself.

A couple of local boys, walking up the road from Doris' Grocery, stopped to look at my work. They were in their late teens or early 20s. The big, boisterous one looked Samoan. He was about six-two or three and probably weighed in around 350. The other guy was about 5'10" and built like a yardstick.

After a few minutes of pleasantries the bigger one of the two asked, in pidgin, "Why you doin' dat?", indicating the painting.

"For fun", I said.

"You hunt da pig, braddah?"

While my brain shifted gears due to the abrupt change of subject, he clarified, "You know brah, da wild boar?"

"Not so far this week", I said. "No, I said, never hunted wild boar."

"Ho brah, you gotta try it yeah!", he said with great enthusiasm.

"What do you use to hunt them?", I asked... meaning what kind of weapon. I figured they would use a shotgun or rifle to bring the pig down from a safe distance.

"Dogs", the big one said.

"The dogs will kill the boar?", I asked.

"Na, da dogs, dey just get ahold o' da pig and keep 'im from gettin' away".

"So, how do you kill the boar?", I asked.

"Widda knife brah!", he said with a certain amount of glee.

Oookay, I thought. Now where did I put my car keys?

"But boars have tusks don't they? Do they ever get you with the tusks?"

"Not usually," the other guy said. "But sometimes they cut up the dogs some. The last pig was small. He had only 3 inch tusks."

The big guy said, "I got my dogs these collars, and da kine jackets dat keep 'em from gettin' cut too bad."

"Wild pigs are nocturnal aren't they? Only come out at night?", I asked. "Do you hunt them with lights?"

"Na, you not s'posed to hunt wid flashlights. Not legal. So we wait till da moon is pretty bright and go out widda dogs. Dey find da pigs and we can find da dogs by da noise".

"Cool", I said, while analyzing the fun of boar hunting - "Wait until it is pitch dark. Then, wearing nothing but t-shirts and Levis, follow some dogs wearing kevlar vests into the jungle hoping they will "get ahold" of a mean-tempered wild critter with teeth formidable enough to require wearing armor. Then find the dogs and the pig in the dark, by sound alone apparently, and somehow, in the midst of thrashing boar and growling, snapping and biting dogs, find a way to poke the pig with a knife without getting bitten or gored."

I never got the chance to ask them how they managed to reach their late teens because just then a friend of theirs rumbled to the side of the road in a jacked-up old pickup. The two local boys piled in and they drove off, waving shaka from the back of the truck.
Comment on or Share this Article >>
---
The Squeegees of Doom
by on 7/12/2011 11:07:52 PM
1 Comment


It was hot and humid in Keauhou, so my wife and I decided to drive up the mountain to a cooler elevation. When we reached Holualoa, it began to sprinkle.

The Holuakoa Cafe is in an old clapboard house with a great porch. On the south side is a jungle of a garden with small tables and arbors and umbrellas. They also have great coffee. Just up the street is the Kona Hotel, an old two-story wooden structure. It looks like a hotel in a western movie, except most self-respecting cowboys wouldn't be caught dead in it. It's painted a bright "Barbie" pink.

We parked under a banana tree, and walked through the misty drizzle to the cafe. We took our coffee out to the porch and sat there reading and listening to the rain. It was much cooler, and a great way to spend an hour or so.

It was still raining when we left.

As we pulled a U-turn in the road, Joyce shrieked "Look out!", and coverd her eyes.

I hit the brakes and whipped my head right and left, looking for the big truck loaded with crates of macadamia nuts that was surely bearing down on us. Headlines raced through my mind: "Tourists Killed by Hawaiian Nuts". But the road was empty.

Then Joyce yelled "No! There! There!" as she pointed through the windshield.

I focused a little closer and there it was. A gecko was doing a frantic windshield waltz with the wiper blades. He must have dropped out of the banana tree onto our car while we were having coffee. I reached for the wiper controls. The gecko was being swept back and forth by the wipers but seemed to be holding his own. Just as I switched them off, one of the blades ran over the lizard from behind and came to a stop right in the middle of him, pinning him to the windshield.

"Ohhhh! You've killed him!", Joyce cried.

He had a startled look on his face and was absolutely still. Not even a twitch. I swerved to the side of the road and got out. Feeling a huge load of guilt, I carefully lifted the wiper blade off the gecko.

He was very quick for being dead. My heart stuttered a couple beats when he sprang onto the hood of the car. He seemed totally unconcerned about his encounter with the squeegees of doom.

I didn't want a repeat performance so I tried to pick him up and transfer him to a safer place. The gecko was having none of that. I spent a couple of minutes playing reptile wrangler, chasing him all over the hood of the car. He finally zipped up the windshield, across the roof of the car and dropped onto the edge of the open passenger window… right next to Joyce, who wasn't at all enthusiastic about picking up a scaley hitchhiker. She was pretty vocal about it, too. The lizard wanted no part of riding with an excitable human so he jumped off onto the ground and ran under a brightly colored porch.

I looked up into the grinning faces of a few guests leaning over the railing of the pink hotel. Some people are easily entertained. Still, I felt some small vindication. None of them were wearing cowboy hats.
This is a plein air painting I did of the Kona Hotel. It took 2 sessions because I got rained out during the first session. It was a great excuse to come back for more coffee.
Comment on or Share this Article >>
---
Packing for Plane Air
by on 7/12/2011 6:59:13 PM
Comment on this


(sorry for the lame pun)

My wife and I spending our vacation on the Big Island of Hawaii this year. I'm going to paint as much as possible while we're here.

I have flown with my plein air gear several times without any problems, even on international flights.

The key thing is to leave the solvents at home. Plan to buy them when you reach your destination. I pack my paints in a plastic ArtBin box, along with a big label identifying the contents as Artist's Oil Colors, Non-Flammable. I also include MSDS sheets for most of my paints. I printed these from PDFs I downloaded from the manufacturer's websites. I pad the paint tubes with paper towels, being carefull to position the tubes so they don't puncture one another. I have a Holbein palette knife, which I love, and I pack it in a cardboard tube in my checked bag. Don't put palette knives in your carryon luggage.

The empty turps can, Gitzo tripod, EasyL umbrella, sketchbook, pencils & markers in a pouch, a baggie with nitrile gloves and garbage bags, a water bottle, and a mesh bag with sunscreen, bug repellant and "WetOnes" towlette packets.

My Bitterroot Lite pochade box, from Alla Prima Pochades, with brushes stored inside, my laptop, and camera go into my Eagle Creek travel pack, which is my carry-on luggage.

I'm confident that this approach to packing works because I found a TSA "Notice of Baggage Inspection" card inside my checked luggage when I arrived this time. All my stuff was still there.

I pick up a pint can of odorless mineral spirits and a roll of paper towels when I arrive at my destination, assemble my kit and load it into my pack and I'm ready to paint.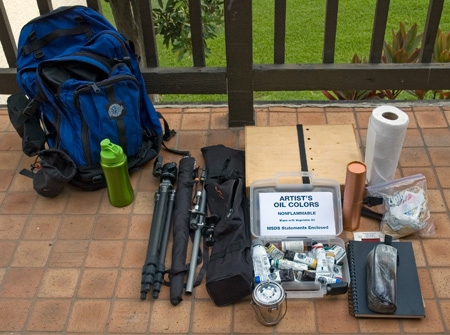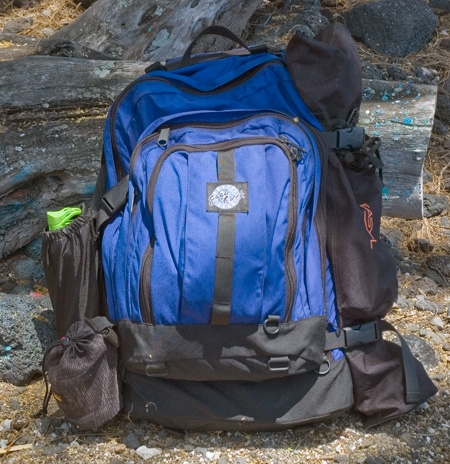 Comment on or Share this Article >>
---
Lost Pets - a Postcard from Hawaii
by on 7/12/2011 2:00:00 AM
Comment on this


We just got back from the beach and decided to sit out on the lanai for the first time. I looked up at the overhead beams and saw great drooping webs festooned with neatly wrapped little carcasses. Dozens of them dotted the mass of criss-crossed webbing and others dangled straight down on single strands of spider rope. It looked like a giant spider pantry, stocked with goodies of various sizes - from tiny flies, to beetles, to maybe small birds.

I took a broom and went to work clearing the webs from overhead. Didn't want to doze off in the lounge and wake up wrapped from head to toe like an arachnid burrito. As I swept the broom through the webs, a big spider dropped onto the tiles with an audible plop. It took off at a run and I blocked its path with the broom. The sucker jumped about 20 times its own length! I swatted at it with the broom and it rolled across the patio and came to a stop, lying on its back. It pulled its legs in and rolled up into a ball. Weirdest spider I've ever seen. It had a big, perfectly round body with short little legs shaped like spear points that poked out a little beyond the edge of its body. It looked more like a crab than a spider. It suddenly rolled over and jumped again. I was ready and swept him off the deck. Creepy little bugger.

On the way home I had noticed several "lost pet" flyers posted on phone poles along Alii Drive. I wonder if I should call them and tell them about the spiders.
Comment on or Share this Article >>
---
Lucky Lizards - a Postcard from Hawaii
by on 7/12/2011 1:53:00 AM
Comment on this


There was a gecko in the kitchen when we were putting away our groceries. A gecko in the house is supposed to be good luck. This one was very small and sort of pale. I wonder what that means. As far as I'm concerned he's welcome to stay. They eat their weight in mosquitos, roaches, and other bugs. They also eat each other. They may look small and shy but they are very aggressive and fierce. Good thing they are small. Cute little cannibals.

They are also jelly junkies. When we were here last time we ate breakfast at the Hawaiian Angel cafe. We sat outside on a ricketty old porch that ran along the side of the building. We opened one of those small jelly packets and set it on the railing and before long it was surrounded by geckos. The big ones would chase the little ones away but they soon came back.

These guys are really quick and agile. They have special toe pads that allow them to run up walls and across the ceiling. The toe pads, coincidentally, work on the principle of "van der Waals force".

Besides being very quick, their tails will pop off if you grab one by that end. So if you try to catch one, grab it in the middle. Otherwise you'll have a twitching tail between your fingers and the gecko will be flipping you his middle one from a safe distance.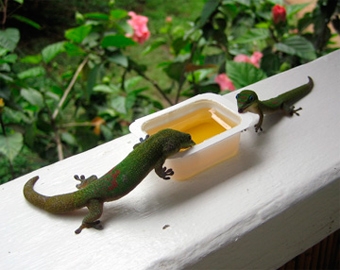 Comment on or Share this Article >>
---